Rogue Wave – a Morning at Agate Beach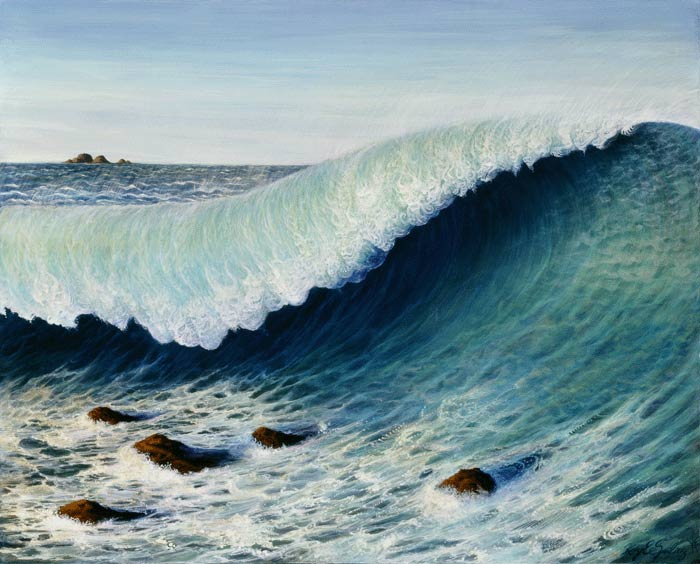 ©2004 Kathy E. Sparling
Acrylic on Canvas, 24″ x 30″ Giclée Limited Editions on paper and canvas. ORIGINAL IS AVAILABLE (call or email for price).
DETAIL/ARTIST'S PERSPECTIVE:
The composition of this painting came directly from a dream, where a friend handed a camera to me as we walked along the beach. I took a snapshot of the moment before the wave crashed, which ultimately woke me from my dream state. I immediately sketched the composition and while I was painting the crest of the wave, an unfortunate event took place in my life; a close friend passed away.
I continued to paint throughout the process of packing up my friend's belongings. At this time, a Celtic phrase had been mentioned by one of my friends which was associated with the Dragon of Morning. Eventually, this phrase came through the crest of foam in the wave.
I pulled these dragon heads out of the paint, not knowing what would come next. We are taught to respect the ocean and we eventually learn that you should not turn your back to it. This piece was born from the respect shown to the mourning process and the awareness of staying open; not turning one's back on its intricacy is an important lesson, for a rogue wave of emotion will eventually wash over you.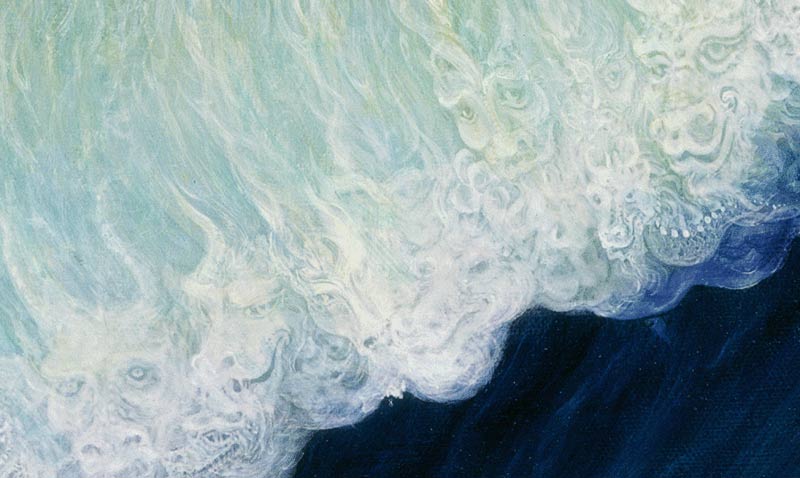 Limited Edition Giclées (UV coated):   24″ x 30″,  16″ x 20″, 14″ x 18″
Matted, backed and bagged: 8″ x 10″ available on photo paper and fine art paper

Cart is under construction: