Giclee
My work is available as limited and open edition reproductions on canvas and fine art paper.
Giclee (zhee-klay): Images are generated from high resolution digital scans and printed with archival quality inks onto various substrates including canvas, fine art, and photo-base paper. Reproductions should not be displayed in direct sun or lighting conditions and should be kept away from contact with moisture.
Giclée Prints on Canvas: Changes in humidity and temperature can cause sagging, even to originals. Clean your canvas with a dry, lint free cloth or soft brush. Never use a wet or moist cloth to clean your giclée canvas print.
Giclée Prints on Paper: Paper prints should be handled carefully to prevent absorption of oils or marks from fingertips. Be careful not to dent or crease.
ABOUT EDITION SIZES:
Edition Size: The total number of archival enlargements from one particular image.
Limited-Edition: A predetermined number of enlargements published from an original work of art. The total number of photo enlargements is fixed by the artist or the publisher in order to create a scarcity of the print. The artist's signature is usually found in one of the lower corners of the enlargement and is accompanied by a number that looks like a fraction; the top number indicates the number of the photo enlargements and the bottom number indicates the total number of Giclee prints in the edition.
Open-Edition: A reproduction of an original artwork that is sometimes signed by the artist. The number of enlargements published is not predetermined.
1.5″ MIRRORED GALLERY WRAP CANVAS REPRODUCTIONS:
A method of stretching an artist's canvas so that the canvas wraps around the sides (Stretcher Bar or strainer bars) and is secured to the back of the wooden frame. As a result, the hardware (staples or tacks) used to secure the canvas is not visible. The sides of the canvas are prepared and primed in the same manner as the face. They may then be a solid color or may continue the image appearing on the face. This method of stretching and preparing a canvas allows for a frameless presentation of the finished painting or photograph. (Source: Wikipedia, 2013)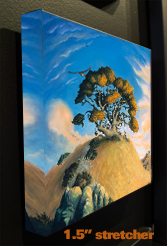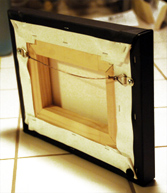 COATING: GLOSS OR MATTE:
**Gloss UV coating is the default coating for archival canvas printing. Upon ordering, if you would like matte coating, please select in the drop down on the cart.
STORAGE:
An ideal environment to store canvas and paper prints is 70 degrees and 55% humidity. High humidity can cause yellowing. Keep all giclée prints away from solvent-based materials such as oil paints and linseed oil, as the vapors can cause yellowing. Stretched pieces should be stored upright, not stacked and all prints should be interleaved with archival paper dividers and never stored with any weight on top of them. Avoid tape coming in contact with the coated print as it can peel. Do not store heavily embellished prints in plastic bags. (Source: Maui Island Giclee, 2013)