Conception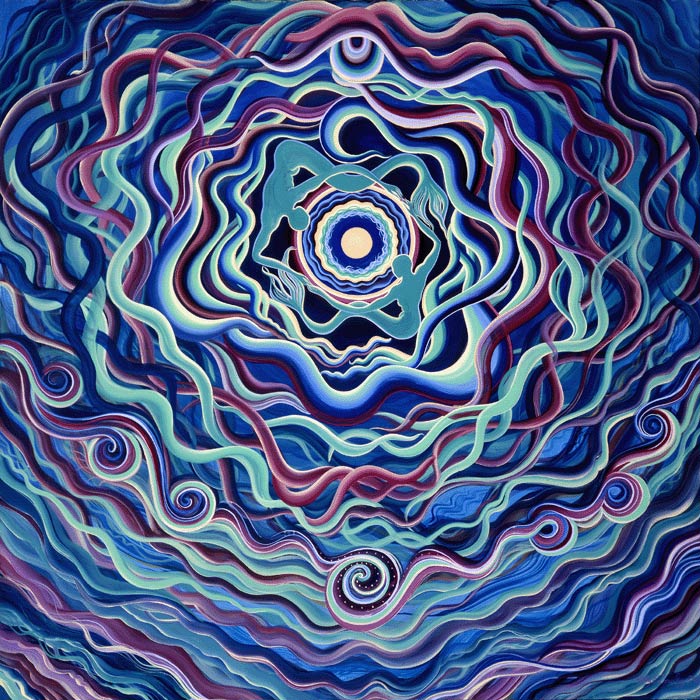 ©2002 Kathy E. Sparling
Acrylic on Canvas,  36″ x 36″  – Giclée Limited Editions on paper and canvas. ORIGINAL IS AVAILABLE (call or email for price).
DETAIL/ARTIST'S PERSPECTIVE:
A year or so, prior to Conception's creation, my husband and I had experienced a bad car accident, so in a way, this piece is a road map reflecting the intricacies of the journey. I painted from the inside out, layering and turning the canvas until the center came to fruition. Conception represents an intimacy of connection and new love.
Additionally, during my mother's cancer treatment, she would glance at the photo of Conception and use it for focusing her thoughts during her healing process. Conception was loaned to Scripps Hospital in San Diego, CA, after caring for my mother during her 11-year battle with colon cancer. This painting was on display at the Fertility Clinic for five years.
Limited Edition Giclées (UV coated): 36″ x 36″,  24″ x 24″,  12″ x 12″
Matted, backed and bagged: 8″ x 10″ available on fine art paper (11″ x 14″ final size)
Cart is under construction: