About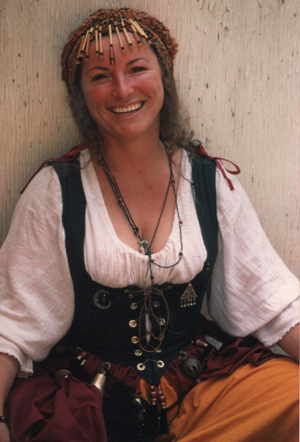 KATHY E. SPARLING
Paintings as Works of Enchantment
Kathy E. Sparling was born in Mountain View, California, in 1963 when the Valley was full of orchards instead of silicon. Her parents were both very creative and her Dad still paints.
By age 9, she was selling small paintings door-to-door around her neighborhood, using her red Radio Flyer wagon.
In high school, her art became inspired by painters such as Roger Dean (whose fantasy work can be found in books, on 'Yes' Albums, and some of which has influenced the new movie 'Avatar'), Maxfield Parrish (for his lighting and Romantic Realism), and Brian Froud and Alan Lee (who wrote and illustrated the book 'Fairies'). High school also seemed profitable with commissions from teachers and fellow students.
Between high school and settling down in Bolinas, California, in 1995, she traveled around the US, Baja California, Scandinavia, the Untied Kingdom and continental Europe. She also owned a few vintage clothing and collectible businesses and always continued her art.
A scattering of college art classes helped her learn new techniques here and there. Exploring different spiritual practices brought more depth to her paintings.
Now settled and married in Bolinas, (West Marin County north of San Francisco), she has been able to draw upon the local landscapes and beauty around her. Her first exhibition was held at the Bolinas Gallery in 2006, which was well-received. Her nickname is "Yummy" and when she isn't working, she paints in colors that betray the source of that name.
PAST PRESS: